As of November 1, 2018, Smile Direct Club (SDC) will be available in Canada.  There is currently no information as to the locations or if the delivery model will be any different, given regulations in our country.  One thing is for sure... we'll find out soon!  UPDATE November 1, 2018:  Smile Direct Club's website shows locations in Markham, Toronto, Calgary and Vancouver for now.  Their IG story indicates Regina, Winnipeg, Ottawa, Victoria, amongst other cities as well.
Smile Direct Club may be an option for those who are looking for orthodontic treatment without in-office visits and for those who are cost-conscious.  The conveniences of not being directly supervised by a doctor may be tempting.
[caption id="attachment_37" align="alignleft" width="215"]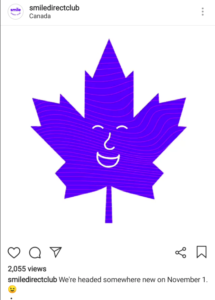 Smile Direct Club coming to Canada, but where?[/caption]
Apart from requiring an orthodontist for cases that are more complicated and beyond the scope of SDC, there are several benefits to seeing an orthodontist, knowing that you will have a customized plan that you can provide feedback on, and having a professional directly monitoring that the teeth are being moved in a healthy and sound manner.  In addition, in order to move the teeth precisely, nearly all treatments benefit from IPR (inter proximal reduction) and placement of attachments, which are not available in with Smile Direct Club.
In fact, at MCO Orthodontics, we have treatment plans for minor movements that are comparable in price to SDC, and you can be seen by one of our licensed specialists and our registered clinical team members.  If you are considering Smile Direct Club in Markham or in Toronto, consider getting in touch with us to get Invisalign at comparable rates when treatment is within the scope of SDC cases.